But there is one thing that I do know...
With Dr. Gottlieb's method you can:
Thanks to Dr. Gottlieb's pioneering work - you CAN do something to take care of your eyes . . . besides watching yourself grow more and more dependent on glasses . . . besides watching your eyesight get weaker and weaker.
How It All Began . . .
About 25 years ago one of Dr. Gottlieb's patients, a 52-year-old man, asked him if there was a way to avoid reading glasses. Dr. Gottlieb was just about ready to respond in the negative - as his extensive medical training had taught him.
Instead, he said, "Let me think about it."
Dr. Gottlieb, who had been on the clinical faculty at the University of California-Berkeley Optometry School and a professor of optometry at the University of Houston College of Optometry, decided to investigate.
Confronted with his patient's question, Dr. Gottlieb wondered anew: Does it have to be inevitable to lose close-up vision? Could it be possible to stave it off or even reverse it?
After considerable research, study and thought, Dr. Gottlieb revisited a well-known, professionally accepted principle of vision that every eye doctor learned in medical school.
Perhaps, he thought, this principle "about how the eyes function" could be applied to the problem of presbyopia.
The "Magic" Principle . . .
The focusing lens of the eye and the fine muscles that surround the eye stiffen with age and lose their natural, youthful flexibility to focus easily and clearly at near.
That's how doctors explain the loss of near vision as we age.
But there is also another visual function that stimulates focusing at near.
Let me explain:
In order to see up close, first we have to turn - or converge - both eyes inward so that together they aim - or point - at what we want to see.
"Turning our eyes inward stimulates the eyes' ability to focus clearly at near," Dr. Gottlieb says.
The fact that converging the eyes stimulates near focusing has been known for over 100 years.
What was never before examined - until Dr. Gottlieb began looking at the issue - was whether this visual mechanism could successfully be applied to presbyopia.
Dr. Gottlieb found that it can.
"I've seen my patients improve their near vision, avoid reading glasses, get free of reading glasses or need weaker ones," says Dr. Gottlieb, who, for the last 20 years, has been Dean of the College of Syntonic Optometry.
The Read Without Glasses Method - In 6 Minutes A Day
Hi, I'm Martin Sussman, president of the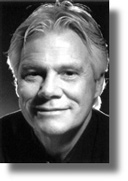 Cambridge Institute for Better Vision. Since 1976 I have been teaching people how to care for their eyes using natural alternatives to glasses, contacts and surgery.
I've written five books and audiotape programs on improving vision, and travel extensively throughout the U.S., Canada and Europe, leading seminars and classes. More than 250,000 people have contacted the Cambridge Institute for vision help.
As soon as Dr Gottlieb told me what he was doing to help his patients with presbyopia, I became excited about the possibilities.
I helped Dr. Gottlieb refine and convert his exercises, which were only applicable in a one-to-one doctor-patient setting, into The Read Without Glasses Method that could be used by anyone at home.
Learn it and you can use it anywhere almost any time - even on the go.
Results can be amazing. Some people need to use the method a few weeks - for only a few minutes a day - before they start to see their near vision improving. For others, the results come much quicker.
"When I first started using The Read Without Glasses Method, smaller print was fuzzy. Now it is much easier to see. I can read a lot more of the smaller print. The method is simple to learn and practice is easy. I spend about 4 minutes a day with it, usually while eating breakfast."

Julie-Ann Z., New York
Can Your Eyes Do This?
Even though the results for many people are truly amazing, The Read Without Glasses Method cannot help everyone.
Let's see if this method can work for you.
First, sit about 18 inches from your computer screen. Then, hold the thumb of your right hand 5-6 inches in front of your eyes, between you and the screen.
Now, as you focus directly on your thumb notice that you see two images of the circle below in the background.
Now, focus directly on the circle. See two images of your thumb in the foreground.
Most people easily get this illusion of double images. Don't worry - it's perfectly normal. In fact, seeing this illusion of double images is necessary to benefit from The Read Without Glasses Method.
Can't get it right away? Relax. Now try shifting your focus back and forth from your thumb to the circle 10 or 20 times. That may be all it takes. (if not, send us an email.)
The Read Without Glasses Method - Not For Everyone
The Read Without Glasses Method WON'T benefit people who have only one functioning eye, a lazy eye, eye-turning problems or severe low vision.
But for the vast majority of people suffering from middle-aged sight, The Read Without Glasses Method is a safe, effective, natural solution.
The Read Without Glasses Method is unique - completely different from anything available anywhere else.

If your near vision is not as sharp as it used to be


If you're already needing or using reading glasses


If you want to avoid or reduce the need for bifocals
Then The Read Without Glasses Method is for you.
The Secrets In the Eye Chart
Dr. Gottlieb created and designed a special kind of eye chart - not an eye chart to measure clarity of vision - but one that trains and stimulates the convergence/accommodation function.
Dr. Gottlieb gave this new chart to his 52-year-old patient and taught him a set of easy exercises to practice with it at home.
Two weeks later his patient returned with amazing results: Practicing just a few minutes daily, his near vision had improved from 20/200 to 20/40 and he could see clearly again without reading glasses.
So, Dr. Gottlieb began to give this new chart - the very same chart that you'll receive when you order The Read Without Glasses Method - to other patients who wanted to challenge their aging eyes.
And, much more often than not, Dr. Gottlieb saw the same kind of results.
Another patient, a 75-year-old optometrist who had been wearing +2.50 Diopter add trifocals for years, practiced the exercises four months before he could read the tiny print on the chart without any glasses.
And the 52-year-old patient? Three years later, his unaided acuities were even better!
Surgery: Is It Really a "Quick Fix"?
Some people seek the quick fix of eye surgery. But are there risks?
Surgical remedies for presbyopia include conductive keratoplasty (CK), the latest procedure. It costs up to $2,500 and it's not covered by insurance. Performed only on one eye, an FDA panel warned CK "may affect depth perception" and could present a driving hazard.
For 99% of CK patients, results only last between three and five years, then wear off, and the procedure needs to be repeated, up to a maximum of three times.
Another "quick fix" some ophthalmologists are advertising is a costly operation that implants a "special" lens inside the eye.
This, despite known risks such as ocular infection, retinal detachment, macular degeneration and corneal malfunction.
And - even after surgery - some patients must practice vision exercises for several months to achieve the results they desire.
Surgery after surgery . . . expense after expense . . .
Instead, use The Read Without Glasses Method and take care of your eyes naturally and get the results you want . . . without the costs and the risks associated with surgery.
See Clearly Again...
When you relieve the tension, stiffness and rigidity in and around your eyes an incredible thing happens: All the parts of your visual system work together and function in harmony, bringing the world into focus naturally.
Just imagine . . .
You could stop your near vision from getting worse...
You could watch your eyes get stronger while your reading glasses get weaker . . .
You could throw away your reading glasses forever . . .
No more hassles of getting - or forgetting - your glasses . . . No need to chain them around your neck or fish for them in your purse . . . or break them in your pocket . . .
It can be done - in as little as 6 minutes a day! The Read Without Glasses Method will show you how!
"I just bought your Read Without Glasses Method. I immediately watched the DVD, and, of course, tried out the techniques. The next morning I discovered that I am able to read my e-mail without my reading glasses, and that's just from the first 5 minutes of effort! I plan to be reading the fine print soon..."
Mary Lou Jaeger, author, www.crazytraveltips.com
Hot Springs, AR